Best Wireless Headphones
Best Headphones for Rock and Metal
Best Rock Headphones
Best Metal Headphones
LOOKING for the best headphones for rock and metal music can be a very tedious process. With so many manufacturers claiming to offer the best headphones for rock and metal music with shiny packaging, fancy adverts, and sleek design, how do you know which are the best headphones for rock and metal music?
What makes headphones good for rock and metal music?
It can depend on what type of music you actually listen to, but overall, you want to select headphones that have a wide frequency range. You also want to find a pair of headphones with a relatively low impedance. If you don't want to search through technical details, we've put together a list of killer headphones below for you to choose from!
Best Wireless Headphones for Rock Music?
If you're considering which are the best wireless headphones to buy for rock music then the only things you really need to consider apart from the overall quality is the battery life of the wireless headphones. Do you need wireless headphones to go for hours on end in one go? Or do you just need them to last for an hour or two.
Some cheaper wireless headphones can end up delivering a lower output in terms of volume, which will also reduce the amount of bass and frequency range you may experience. So, if you're going to invest in wireless headphones for rock music then you should consider avoiding completely low end brands and be prepared to spend a little bit extra to get the best quality.
In Ear or Over Ear when it comes to Headphones for Rock Music?
When you're choosing headphones for rock and metal music, apart from considering the quality of the headphones, frequency range etc, you need to think about when you're going to use the headphones.
There's a misconception that In-Ear headphones generally produce a lower quality of sound due to their size. This is not true. Whilst some over ear headphones can definitely deliver a quality of sound that In Ear phones may struggle to match, there are some incredible In Ear headphones on the market for a great price that will literally blow you away.
However, if you're going to be using headphones for running, the gym, or during generally active movement, then you might want to consider In Ear Headphones.
Best noise cancelling headphones for Rock Music?
So, you really want to block out the world around you! Noise cancelling headphones are not only a good idea in general when it comes to enhancing your musical experience, they can also improve the overall sound quality when it comes to the frequencies you hear.
You need to remember that music is simply a frequency, and so is the world around you. The less protection your headphones give you from the outside world, the lower the audio quality is going to be when you're banging your head to your favourite album.
Some of the best noise cancelling headphones are In Ear headphones as these headphones have special rubber adapters that fit snugly in the air and essentially create a mini vacuum within the ear drum. A vacuum means that all of the frequencies coming from the music go straight to your eardrum without interference. However, if you want some excellent Over Ear Noise Cancelling headphones then you might end up paying a little bit more.
These are the best headphones for Rock and Metal Music
Sennheiser are industry leaders in audio equipment. You can also be guaranteed to benefit from incredible German engineering! These bad boys will deliver some killer bass and a wide frequency range so you can hear crisp lead and solid rhythm making them an excellent choice for headphones for rock and metal music.
The new closed-back Sennheiser HD 4.50 BTNC headset delivers everything required by a music aficionado with an active lifestyle. There's the stunning Sennheiser sound and the latest wireless technology, all crafted in an elegantly minimal yet robust design, made from the highest-quality materials. But most of all, Sennheiser's NoiseGard™ active noise cancellation lets you enjoy your music in peace – everywhere.
What is NoiseGard™?
Flying can be particularly tiring, as passengers on board of a plane are often exposed to a continuous noise level of up to 80 dB/SPL. And on board of a train it can sometimes become loud as well. Sennheiser's patented NoiseGard™ technology makes travelling as relaxed as possible by letting you enjoy music in peace. The innovative NoiseGard™ /digital system now offers travelers a choice of three noise-cancelling profiles – optimized for the different types of surrounding noise encountered while travelling.
Wireless: Yes
USB charging cable: Yes
Carry Case: Yes
Frequency Response: 18 - 22,000 Hz

Audio-Technica ATH-ANC33IS
Audio-Technica are one of the most respected companies in the world when it comes to audio equipment. The company has been producing incredible headphones for over 3 decades and although these little guys look harmless, they pack a serious punch.
If you're looking for headphones for Rock music to wear in the gym then get these bad boys. They're also an excellent choice for everyday use and pretty affordable.
Wireless: No
USB charging cable: No
Carry Case: Yes
Frequency Response: 20Hz-20000 Hz
If you're new to the Marshall brand, which is highly unlikely, this is an iconic music brand that's been around for decades making some of the most renowned rock and roll amps and musical equipment, endorsed by some of the biggest rock and roll stars on the planet.
Marshall are pioneers in the music industry and recently moved into the public market with a brand new range of killer headphones for rock and metal music.
The Mid ANC's offer up to 20 hours of playback time, custom drivers for superior sound, 3D hinges that produce an ergonomic fit, and a super stylish look. The Marshall Mid ANC's also have a mini control button on the side that hooks to be used with certain functions on your phone.
Wireless: Yes
USB charging cable: Yes
Carry Case: Yes
Frequency Response: 20Hz-20000 Hz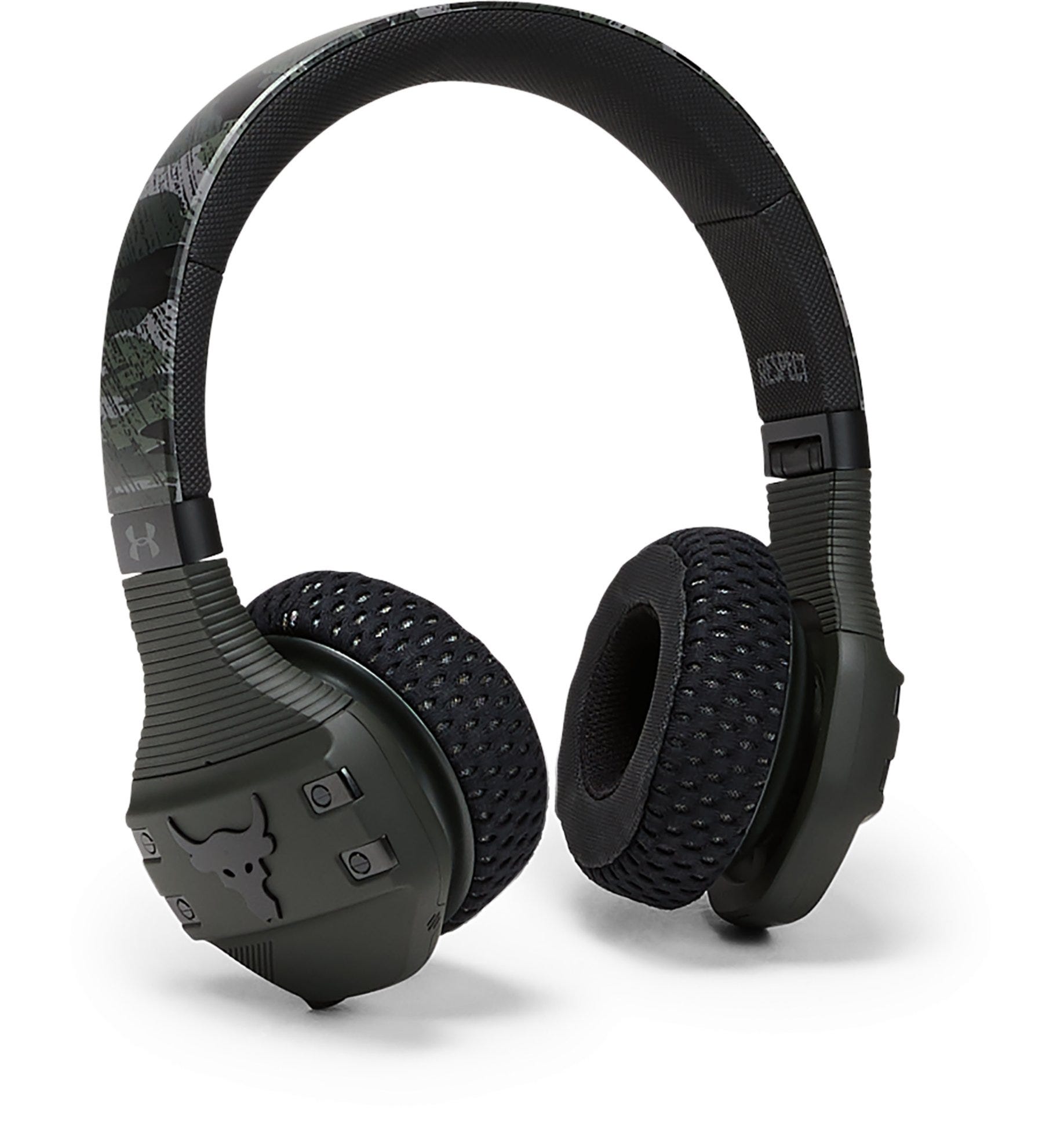 Project Rock (Dwayne Johnson Headphones)
Yes, that's right, The Rock has released his own brand of headphones! But are they worth it?
Project Rock Sports Headphones are a collaboration with Under Armour, a sports brand that create sports clothing and accessories. If you're thinking of buying these because you love rock and metal, and you love the gym….don't. They are not noise cancelling and they will not provide much in the way of frequency range, or bass, mids, of anything else. We tried these and threw them away. Sorry Rock Fans.
Sennheiser URBANITE XL WIRELESS
Although these headphones are designed for a more "Urban" market, they actually have one of the largest frequency ranges of all the products we've displayed here. The Sennheiser Urbanites will give you a wider audio experience than most headphones, and deliver a huge pounding storm of bass to your ears. The Sennheiser Urbanites are ideal headphones for rock and metal music.
The materials of the URBANITE XL WIRELESS have been selected for a long lasting headphone. The robust quality of its premium stainless steel hinges and aluminium sliders mean they'll be with you for many years to come so well worth the price tag.
Wireless: Yes
USB charging cable: Yes
Carry Case: Yes
Frequency Response: 16Hz–22000 Hz
Sony, again, another very credible audio manufacturer. Very reliable and excellent quality for your money when it comes to headphones for rock and metal music. Teh Sony WH-1000's are probably the in the highest price range as far as the best headphones for rock and metal are concerned, however, they have almost twice the frequency response of any other headphone here. This means that you'll be able to hear everything in crisp detail giving you a more diverse experience when it comes to listening to rock and music through wireless headphones.
You also get 5 hours of playback time from just a small 5 minute charge which is seriously impressive!
Wireless: Yes
USB charging cable: Yes
Carry Case: Yes
Frequency Response: 4Hz-40,000Hz
The best headphones for Rock and Metal music
These are seriously the best headphones for Rock and Metal music, they all deliver an incredibly diverse frequency range so you can enjoy every crisp detail of the music you love. They can be a bit pricey but they are well built, durable, and will last you a long time.
Popfunk AC DC Powerage Tour Detroit 1978 Live at Cobo Hall T Shirt & Stickers
Official exclusive custom, collectible, and 100% authentic die-cut stickers come with every shirt.
AMAZON.COM
SENNHEISER URBANITE XL WIRELESS
The bass-driven club sound of the URBANITE XL WIRELESS still retains excellent clarity through the entire frequency range.
Sennheiser.com